Using DataManger for a BC Framer® software database upgrade.
Use case: You need to install a newer BC Framer version but a standard upgrade isn't possible.
Before uninstalling the existing version, launch DataManager, which should be in your Windows Start Menu > Boise Cascade. If you have trouble finding the program, here is the default install path: C:\Program Files\Boise Cascade BC FRAMER\Programs\DataManager.exe
Create Backup
If there is only one database in the list, click Backup. (If there are multiple databases select target database first, then click Backup.)

Note the Backup Path, but do not change it.
Note the Backup File Name.
Click OK.
You should see a quick progress bar.
The backup is complete, and saved into the active SQL server folder similar to this:
C:\Program Files\Microsoft SQL Server\MSSQL14.BCFRAMER\MSSQL\Backup
Restore a Backup
Uninstall the old BC Framer version and install the new version. Make sure BC Framer can launch with the new default database. Close BC Framer.
Launch the newly installed version of DataManager.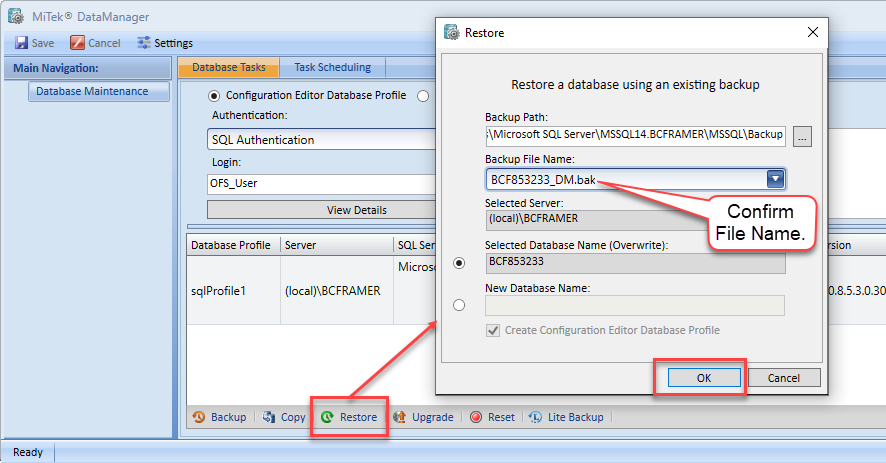 Click Restore.
Confirm that the Backup File Name is the *.BAK file you created earlier.
Click OK.
You should see a quick progress bar.
The restore is complete, but the database is not ready for use. See below for upgrading the database to the newly installed version.
Upgrade a Database
A database restored from a previous version still needs to be upgraded after restoring.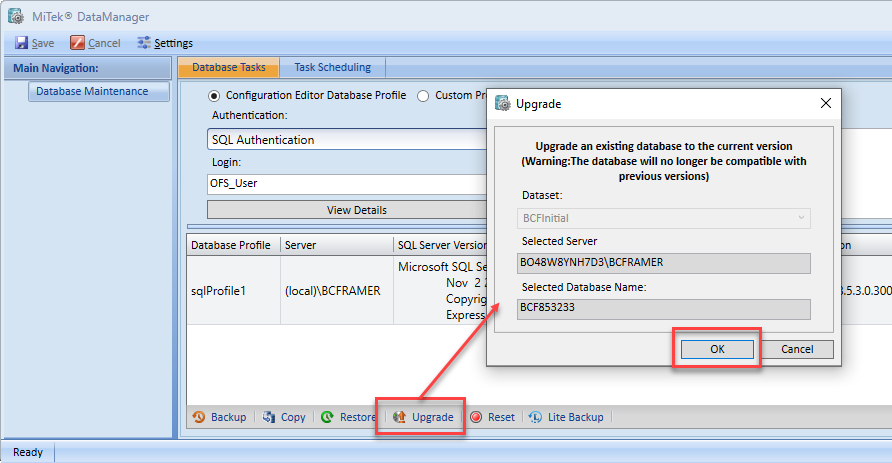 Click Upgrade.
Review the dialog box warning about compatibility.
Click OK.
Once the database has been restored and upgraded it is ready for use.