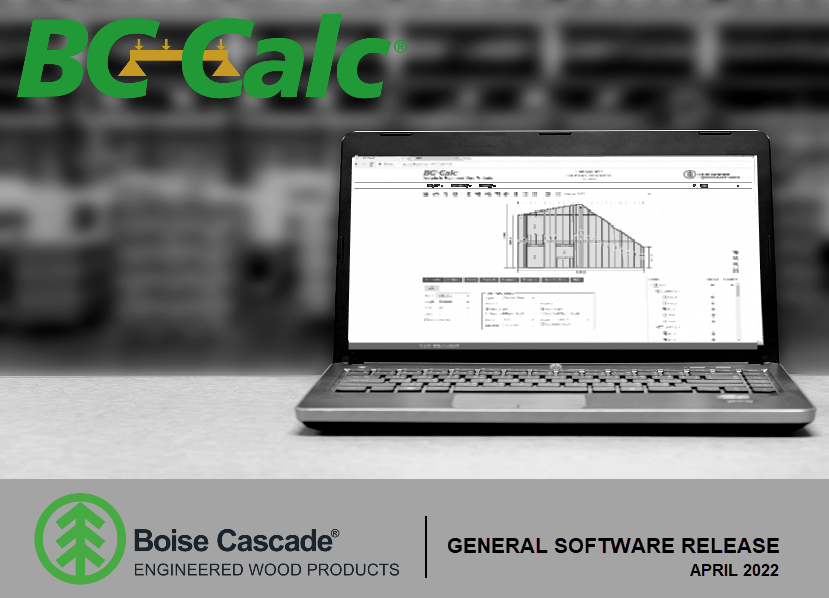 Updates apply to www.bccalc.com as of April 7, 2021.


Release Highlights
New Features
Analysis Summary Grid
New Analysis Summary grid, redesigned and enhanced to allow more freedom for customizing the experience. The customizable grid layout with a responsive, auto-resizing display ensures a complete view of the data at all times. User-customized columns further allow this screen to meet each user's needs and powerful new control has been added under the context (right-click) menu.
Customizable columns can be saved to layouts for future use. The columns support drag and drop organization, sorting and filtering.

Updated context (right-click) menu has been reorganized to accommodate new features, such as Layouts, Expand, Reset Columns, Autosize All Columns and Export.
A new graphical interface makes picking the header member for hangers easier.
Labels for web stiffeners, squash blocks and cantilever closures are now added to the member drawings. Tag visibility can be modified using the Toggle Component Tags
icon. Toggling tags off and on will subsequently turn them off or on for the member report.

Dynamic Drawing Updates
Member drawing zoom is locked by default to prevent inadvertent zooming with mouse wheel. To activate zoom with mouse wheel, click on the drawing to activate, then zoom in and out using the mouse wheel. The zoom in and out (plus and minus) icons function regardless of the drawing being selected.

Added manipulation for span input via the dynamic drawing. Within the member drawing Edit Mode allow the span to be configured as Center in Spans or Clear Span. Using the mouse pointer, double arrows will indicate where the span can be modified.
Usage menu for beams has been updated to include Drop Beam and Flush Beam. The default for this field is Drop Beam, with the Member Bracing Type default as "Braced at Member Ends". The Member Bracing Type default can be further configured to a users liking in Analysis Settings.
Analysis Settings (gear icon) > Members > Floor Beam / Roof Beam > Lateral Torsional Buckling > Member Bracing Type:
Under the Settings tab in each analysis, Member Bracing Type can be adjusted manually. The Usage will affect this whether Drop Beam or Flush Beam has been selected, and the Member Bracing Type should then be revisited to match the specific condition. A selection of Flush Beam will default Member Bracing Type to "Fully Braced" but can still be modified if necessary.
New and improved with a more user friendly design.
Diagrams now align with member drawing.
Hovering the cursor over diagrams or member drawing will show dynamically updated values.
Point of interest can now be selected with a simple click on the drawing or diagram.


Pasting a load that contains an uplift load will now prompt the user twice, once for the downward forces and again for the uplift forces.


In a previous release, Offline Mode gained the ability to "Add To Existing" when opening a second analysis (.bccx) file. In addition to the existing functionality, Offline Mode will now allow multiple file selection from the Project > Open Analysis menu option, merging them into one analysis file.
Analysis file names merged into one will be created as folders with their unique member names nested within.
Notable Change in Design:
Hole and notch repairs are not allowed in the AJS 24 FMJ product series. For files that contain this product with an existing repair, the program will warn the user that the repairs are going to be removed, with an option to cancel or proceed. More info...


New Versa-Lam® LVL product added
3-1/2 x 19" VERSA-LAM® LVL 2.3E 3100 DF for Canadian Users.
Notch Repair Note
The repair detail notes on the member report more clearly state the repair location for notches near the end of a member.
Updated note for cantilevered conditions
Cantilevers require sheathed bottom edges, blocking at cantilever support and closure at ends" for rectangular and I-Joist products.
Engineering Report Resistance Values Updated
The I-joist resistance values in the engineering report for Canadian Building Codes are now the factored resistances instead of the unfactored resistances.
Bug Fixes
Recover Lost Data
Analysis Settings > Advanced: Restore Lost Data will re-open the last file from the current session within the selected interval.
Available for BCCalc.com and Offline Mode

only

.
Delete function within Loads works as intended.
Highlighted load is now deleted.
Offline versions 148 and 149 duplicate loads issue has been resolved.
An intermittent issue where opening a file may duplicate loads has been corrected.
Hierarchy of Beam Connection
The algorithm has been updated to deliver the same connection type if applicable for both full length beam connections and concentrated load connections.
Hangers now display properly for both ends of member.
RESOLVED: Send to BC Calc Error Message "beam too short"
General Enhancements
General Speed Improvement