Using Advanced Selection to Select All of a Type, or a Specific Level
Advanced Selection is a powerful tool and can be used to select entities of a specific type and from a specific part of a model. This is a very high level example of a simple task.
Right-click and select Advanced Selection (Ctrl + A)
Notice the list of "Selected Entity Type" can be as broad as Job (the whole model even!) or as selective as Block, or even Labels.
The Selection Set Operation allows for an Addition, a Subtraction or an AND operation to allow a selection to be refined.
The Entity Filter focuses the selection on All (the entire model), Current Level, or subsets of a current selection.

Example: If the Selected Entity Type is Floor Container then related options you may have under Entity Filter might be Joist or Label, as subset of the container.

Select will initiate the current filtering by adding or subtracting based on the what has been specified.
Clear will deselect and allow for a new filtered selection.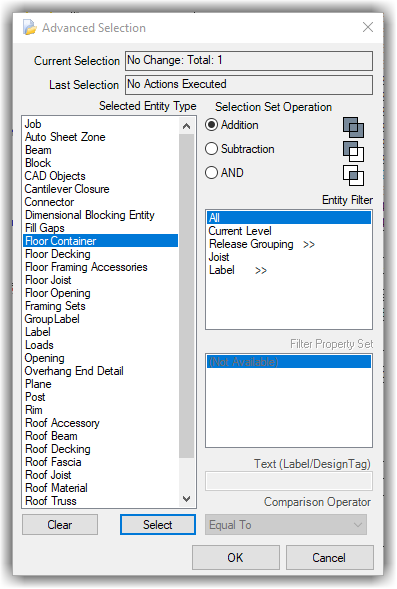 Select all entities on a Specific Level
Under Selected Entity Type select Job.
Under Entity Filter select Current Level.
Click Select and notice the Current Selection indicates the number of entities added to the selection.
Click OK to exit this screen and make the next move!