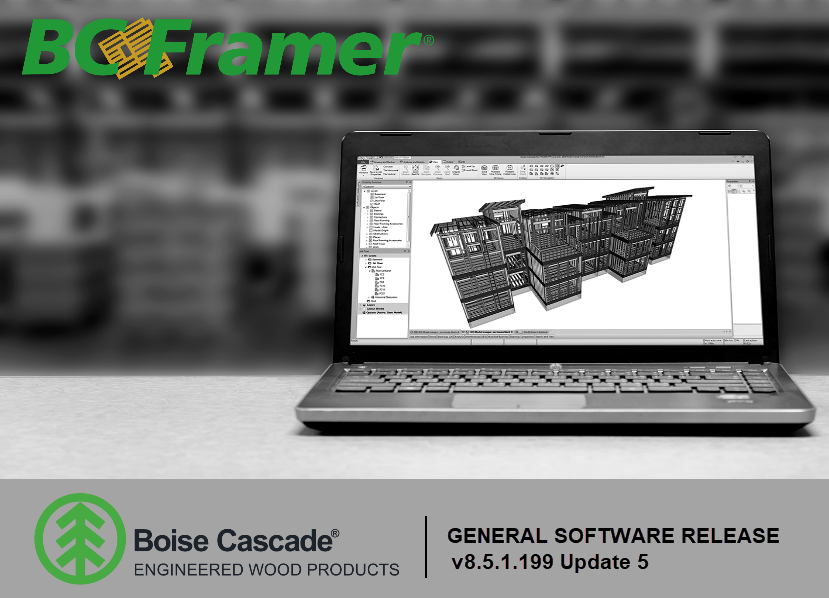 Supported Upgrade-able version: 8.3.1
Notable Updates
Manage setting per Job: Job Properties > Job Settings > Floor: General
BC FloorValue Graphic
FastenMaster screws for Multi-ply Connection
Bug Fixes
Crash when roof blocking labels are grouped: Resolved
Fix applies to:
Version 8.5.1 Update 5 (current general release)
Custom beam bracing fixes: User-Defined Unbraced Length
Unbraced length for beams now calculates accurately when setting for Applied Ceiling is set to "Drywall"
NOTE: beams do not pick up applied ceiling from container above when beam bottom is not flush with container bottom.

Unbraced length for flush beams now calculates accurately when the member supports intersecting members of differing depth.

Manually Input Accessories
Matches joist material correctly, using Floor Container properties to match blocking to i-joist.
Boise Cascade Default Layout Sheet
Boise default layout sheet now showing blank text fields in title block, rather than 'Bob and Sue's High Roof Layout'.