If you have upgraded to BC Framer
®
software version 8.4.1 or newer, you may have noticed an occasional beam that fails design, when it was passing in prior versions.
The difference comes from a change in how beam bracing is considered in the analysis!
Starting in version 8.4.1, BC Framer
more accurately evaluates the modeled members based on their bracing conditions. When the modeled bracing condition is insufficient to prevent potential buckling under the applied loads, the member may fail in Moment.
What changed?
BC Framer
version 8.4.1 or newer now looks at the modeled framing condition to evaluate the bracing points for both top edge and bottom edge of beam and header members and applies reductions to the Moment capacity per applicable building code provisions in cases where the distance between bracing points is too large to prevent potential buckling.
What conditions are affected?
All beams and headers go through the same analysis for bracing conditions. If a beam or header does not have custom bracing specified, it will use the modeled conditions to precisely determine bracing and apply that in member analysis.
How do I resolve the issue?
Check the member report - if you have a failure in Moment, scroll down to the Notes section of the report and view the bracing conditions (fully braced or assumed unbraced lengths). Anything other than "fully braced" indicates that bracing conditions may be the cause of the Moment failure in a member that previously passed.

Confirm the Bracing conditions - if the reported bracing conditions accurately reflect the real world installed conditions then you need to address the failure by increasing the beam width as appropriate or by cutting multiple span members at an intermediate support to create simple span members. Our Technical Services team is available to help should you need it. (Link to their support site: https://engsupport.bc.com/

)

If the bracing conditions in the report do not accurately reflect the real world installed conditions - adjust as needed by editing the member properties (

Properties > Bracing

).

Set

Bracing: Use Custom Bracing

to

Yes

for the member in question:
Specify

Member Top Bracing

and

Member Bottom Bracing

Re-run analysis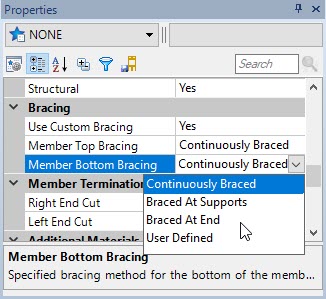 Software Feature Presentation Video