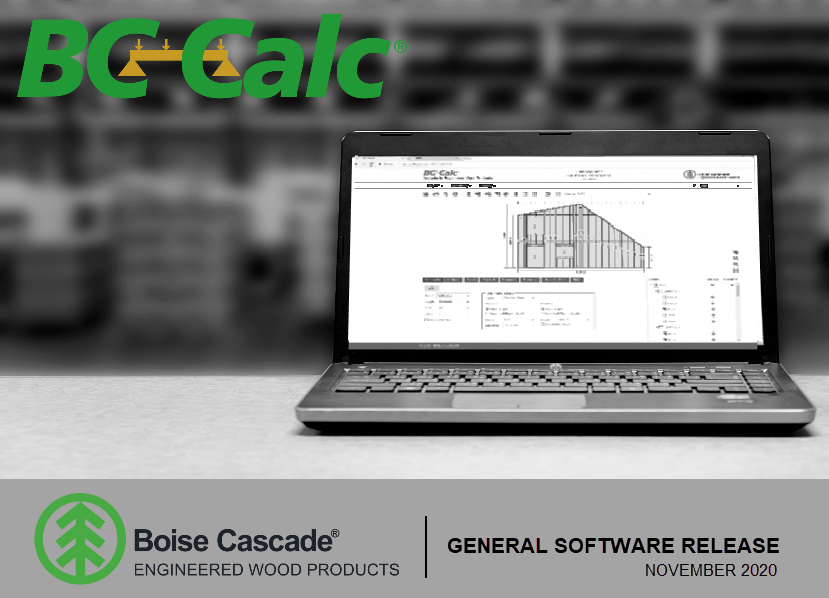 Updates apply to
www.bccalc.com as of November 15th, 2020.
Release Highlights
Notable Improvements
Wall Connections
Cripple Studs in BC Calc® software are visible for clarity.

Stud Count on Connection Drop-down.
Wall Material List
The word "Critical" has been added to explain that the member summary is only showing critical members.

A connection column has been added to clarify where connections belong.

If a connection is different an asterisk (*) will be added, in addition to a note indicating users should view the member report for that specific connection.
Edit Member Name & Description
Use the right-click menu or context menu to update the member name and description.
Bearing Material Update
Updated bearing material drop-down for horizontal members and walls to include the most up-to-date materials.

Any bearing material that was specified with older names will be properly mapped to the new names in the drop-down.
Member Drawing View Update – Bevels & Notches:
Users can view Bevels and Notches added to floor and roof beams.
The same image can be seen on the Boise Design Report.
Notable Update:
Internet Explorer Browser No Longer Supported
Added reminder notice that IE is no longer a supported browser.
Bug Fixes
Reference right is now being considered when using that option.




Load Description is now being retained and can be edited at your leisure.

Designers can copy reactions and it will auto fill the description with the reaction and member names.