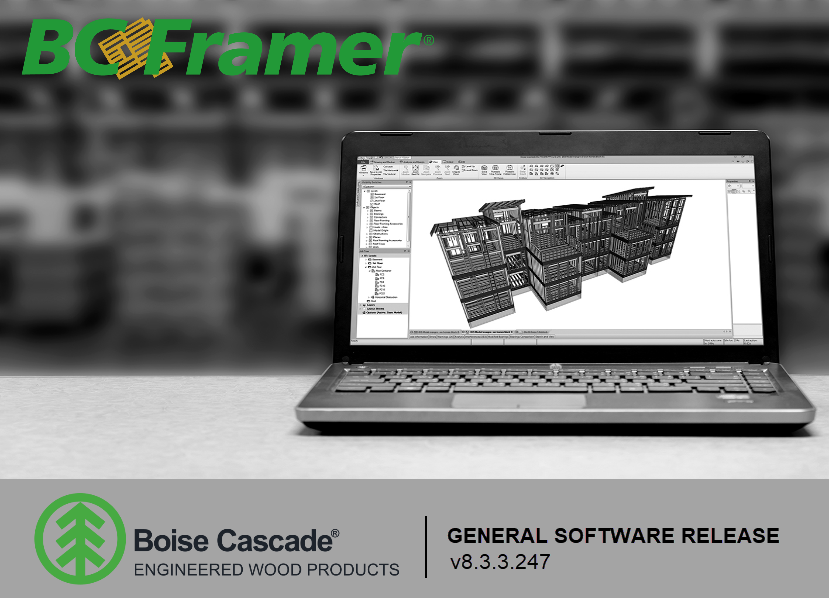 Release Date: February, 11th 2020
Release Highlights
**NOTE FOR UPDATING EXISTING INSTALLS: Direct upgrade supported from version 8.2.0 and newer.**
Notable Improvements & Bug Fixes
Group Label for Hangers Not Updating
If connectors had been group labeled, they were not refreshing upon edit.

Ridge Straps Not Visible on Angled Rafters
Rafters at a 45 degree angle in plan view did not display the ridge straps – they did exist but were not visible.
Floor Joist Labeling Scheme with Ply Added Lists All Single Ply Joists with a "-1" (Fixed)
Post Defaults
The Boise West building style, post scheme pointed to Boise East instead of Boise West.

CAD Objects Input Line Shortcut Missing
The CAD Objects Input Line shortcut was missing but restored in 833.

Database Product ID's
Boise products had different Material ID's in Structure vs. BC Framer®. This was only an issue when opening a model in BC Framer® that originated in Structure and vice versa.

Boise Product ID's now match in both platforms.
Rounded Rectangle:
Maximum width is 22" for rounded rectangular.

The design engine now analyzes the shape correctly.

Floor Member Depth Did Not Update with Floor Container Scheme Changes at Job Properties

Mirroring Floor Container Caused BC Framer® / Structure to Crash

BC Connect® XML Output Corrections:
When a ledger was attached to a beam, BC Connect® XML included the beam twice.
Quantity of fascia material in BC Connect® XML material list was incorrect.