BCCalc.com's saved files are stored and backed up by Amazon with redundant disaster recovery procedures in place. Files stored locally can now be opened directly, uploaded to the website to open, or opened in BC Calc® Offline Mode. (links below)
A BC Calc® analysis (*.bccx) file can be downloaded (and shared) if a local copy of the file is required.
To download a bccx file for local/network storage, or to share:
1. Click Project > Manage Projects.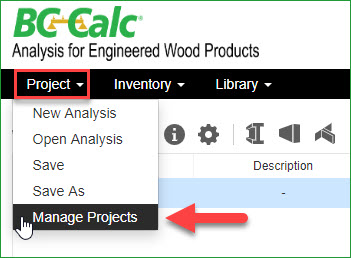 2. Select the Project Name from the left navigation.
3. Click the download icon

at the far right, or the email icon

to send a link.


Note: If you download and save the file to your computer you can archive the analysis (bccx) file locally and open the file in BC Calc Offline Mode, or upload and open the file from another BCCalc.com account.
You can now open locally stored files from BC Calc® online. Open Analysis From Desktop - BC Calc® Online