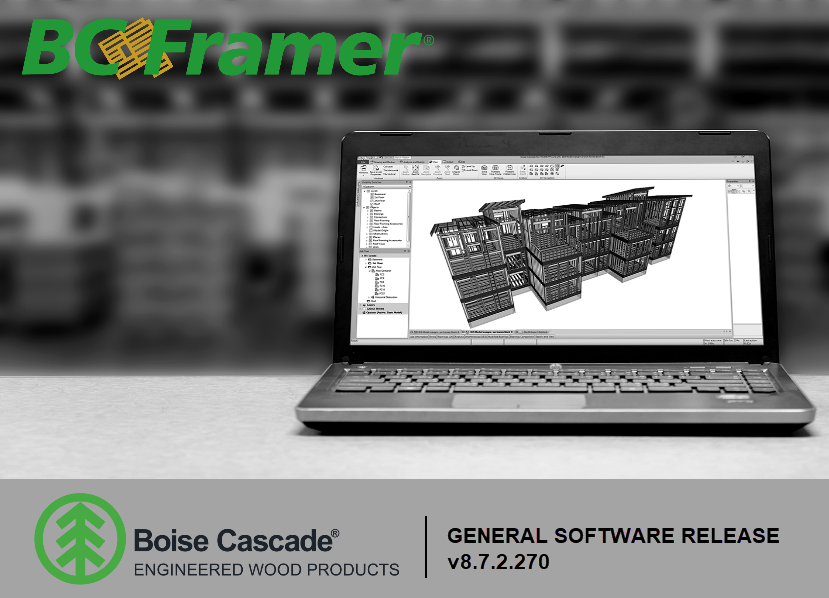 Direct upgrade from version 8.5.2 and newer
Supports Windows 11 (System Requirements)

Notable Improvements
Scheme Name in Product Data
When a user creates a scheme for product data, and the scheme is used, the scheme name will now correctly appear in the Properties Scheme name field.
Load Smoothing - Simplified Display
Boise Member Reports now display the simplified load collection graphically on the member diagram when concentrated side loads are present on a multi-ply beam. Complete loads will be shown in cases where the side load needs a special connection detail or further engineering analysis to assign an appropriate multi-ply connection.
EXAMPLE: In the specific case of a concentrated side load within 18" of the end of the member where there isn't adequate end distance for the concentrated side load fastener pattern (connection pattern is typically 12" to each side of the load + 6" end distance for fasteners per code = 18"). We initially went to the all loads view for this condition because these loads triggered the "further engineering analysis" and the caution note included the load tag reference ID and thus the full load collection was needed to properly match the ID in the note to the ID in the loads table and member graphic. The logic was changed to include these loads in the full length connection analysis when they are less than 2000 lbs. A concentrated load exceeding 2000 lbs within 18" from the end of the member will still trigger the "further analysis" caution and the full loads collection display because that's our threshold for when a concentrated load needs to have special consideration for how it is distributed between the plies above and beyond the full length connection's capacity.
Hanger Price Property Grid
When using a User Defined Solution for a connector the Price field in Connector Properties grid is now active rather than greyed over. This Price field will also extend through to the Cost Report.
New Structure Check Option for Holes
A new Structure Check setting has been added to the Boise Cascade Settings collection to disable pre-analysis validation of hole geometry. When set to "yes" the program no longer halts design when a hole violates geometric constraints. The member will fail design, but the user can create a member report or send to BC Calc for further analysis.
Program Settings > Settings > Boise Cascade Settings: Structure Checks = No
Create Design Ticket Button Active - Save As
When BC Framer is integrated with BC Connect the Create Design Ticket button is now active throughout the Save As process.