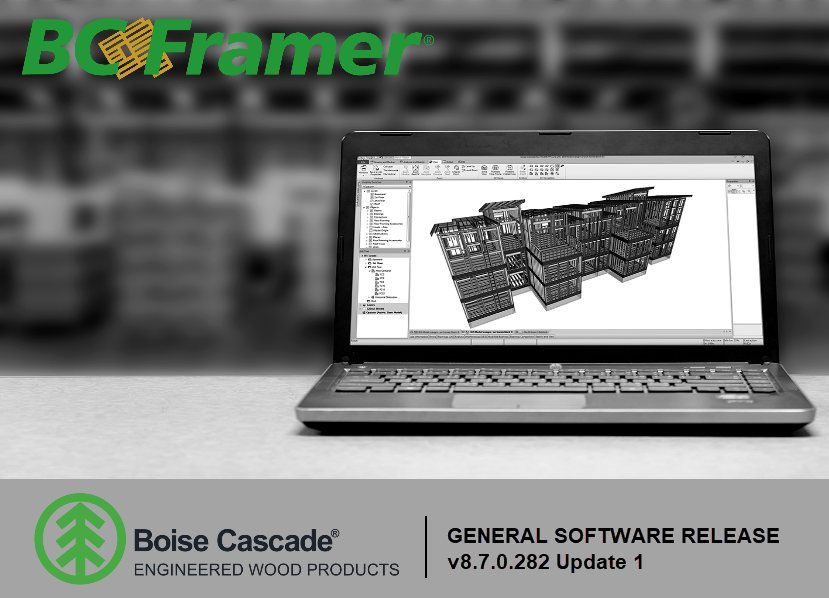 Supported Upgrade-able version: 8.5.0
Supports Windows 11 (System Requirements)
Compatible with Windows 11 Update 22H2 and Windows 10 KB5011048
Notable Improvements
Time Logger controls were added in BC Framer version 8.7.0. Time Logger is essentially a stop watch that can be used to track the time a user has spent working on a file. The Time Logger control icons are not on the ribbon by default, but the user can add them from the Unused command list at their discretion.
Send to BC Calc - Columns
BC Framer 8.7.0 has added the ability to include column members in the Send to BC Calc functionality.
Trace Objects in 3D
PDF images and other imported Trace Objects are shown in 3D, for reference along with the model.
Bug Fixes
BC FloorValue® Modeled Sheathing and Rating
BC FloorValue results now reflect modeled sheathing and sheathing rating as expected in the results matrix.
Parallel Edge Blocking Respects "Include Hangers"
If the floor container properties are set to add Parallel Edge Blocking Accessory, the result will now respect the Include Hangers property being set to No.
Ignore Blocking Equal to or Less Than 3"
Blocking with a length of 3" or less will be ignored by analysis.
BC Framer Integrated with BC Connect w/o Internet Connection
When BC Framer is integrated with BC Connect and the user loses internet connectivity, BC Framer can be closed & re-started as expected. Dialog box will be displayed with the message: "Unable to authenticate BC Connect" as an alert to the loss of connectivity. This work also prevents an associated crash.